Seesaw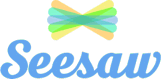 Hi everyone. Here is a video that will help you load Seesaw onto your device. It will work on iPads, Tablets, Computers, Laptops, Chromebook and Kindle.You will need to use the 'Home Learning Code' handout that was sent to your house. You can access your class information by scanning the QR Code or entering the Text Code at step 3.The video will also show you the basics on how to use the program from home. Please remember that Seesaw is not going to be used until Week 2 of Term 2 as you have your booklet to work from in Week 1.
If you require more help, please look in the Seesaw Help Centre at the videos and notes.
Click here for Seesaw Help Center
Good Luck!
Click Here for Seesaw – Student Home Learning Instructions
Here are some 'How to Posters' that show your how to add a Video, Photo or Drawing to Seesaw.